Our Rocking shaker(Paint shaker)is a device used for agitation and dispersion of paints and coatings.They don't equip stirring blades,so it's not necessary to keep cleaning after you used. As you can see in the video, the agitation is also powerful. It has a sturdy body so there are few breakdowns. This device is used not only in Japan but also overseas.
Applicable container
Gallon cans, glass bottle, poly bottle, etc. (with adapter)
Loading weight
5Kg or less per side
Frequency
430~750rpm(The resonance point cannot be used, and long-term continuous operation at the highest speed is not possible)
Attached functions
Inverter variable speed, digital timer
Utility
Power supply: AC100V single phase 15A
Option
・Attachment for small containers
・safety cover
External dimensions
(W)840×(D)520×(H)573mm
Weight
110Kg
 Features of rocking shaker
①Multiple sets of small containers (glass / poly bottle) are possible (※Use attachment)
②Compatible with various types of containers
③High frequency shaker with variable frequency
④Easy-to-use AC100V power supply
---
Uses commercially available inexpensive resin bottles and glass bottles
It is possible to use commercially available plastic containers and glass bottles that are optimal for sampling.
We can also handle other containers that your company already uses.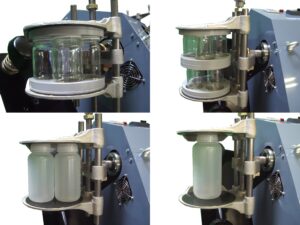 Adapters for setting multiple small containers at once. We design and manufacture according to the shape of them
Specification with safety cover
Cover material
Transparent PET resin
Opening and closing mechanism
Left and right slide openable(※With interlock safety device)
External dimensions
(W)980×(D)660×(H)713mm
※375mm each on the left and right when opening the cover
Weight
About150Kg