SCREW FEEDER FOR POWDERED RAW MATERIALS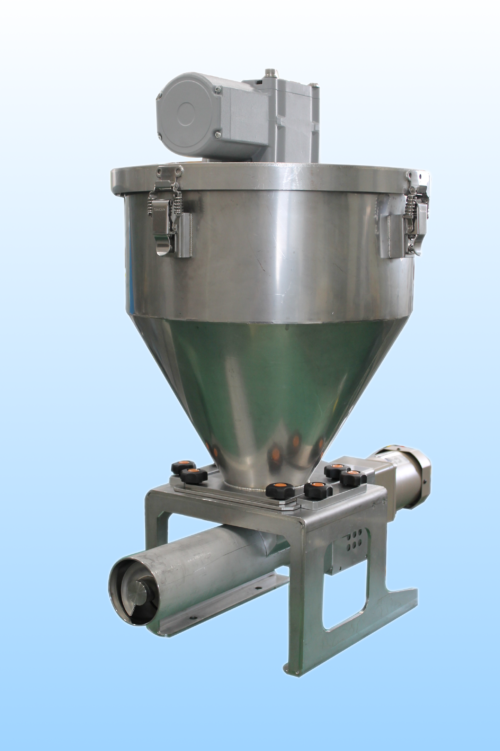 Designed for easy hopper removal
imply remove the knobs and slide them off
Coupling that connects the screw to the motor
Snap locks for easy removal.
Feed screw can be easily disassembled and cleaned
by simply removing 4 knobs
Small and compact
Our screw feeders are not as large as conveyors. However, they do not require a large installation space. We manufacture many of them in sizes that can be placed on a table. They can be easily disassembled without tools and cleaned. This simple machine is easy to operate on a daily basis once you get used to it.
Wide Variety of Sizes
We manufacture a wide range of screw sizes to meet the needs of our customers. There are various types of powders, each with different properties and characteristics. We will listen to your needs and propose the most suitable feeding equipment. With our long experience and manufacturing track record, we promise that we will always be able to meet our customers' needs.
Bridge Countermeasures
A common problem in powder feeding is bridging. Bridging is a phenomenon in which powder clogs up and becomes difficult to flow. Agitators (agitator blades) are recommended as typical countermeasures. Depending on the type of powder, we also offer air vibrators and knockers. Bridging is a common problem with powdered raw materials, but we can offer the best solution according to the characteristics of those raw materials.
Customized Products
Our strength is the ability to customize and manufacture material handling equipment, such as screw feeders and conveyors, according to the customer's requirements. Depending on the environment of the factory or laboratory, there are many different places where they can be installed. Please consult with us about height, length, connection method, and anything else. We are not a manufacturer that only makes specific products, but rather we are willing to make custom-made equipment according to your specifications and offer solutions to your problems.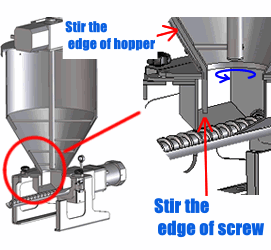 The standard hopper is made of round stainless steel (SUS304).
Outer surface / flange ・ ・ ・ 2B material
Inner surface ・ ・ ・ # 400 Abrasive
Hopper capacity can be selected from 10L to 100L
(20L is standard size)
Optional function
Agitating blades are recommended to prevent bridging.The agitator prevents powder bridging (clogging due to agglomeration of powders) in the hopper and supports quantitative feeding of raw materials. As with the screw, the speed of rotation can be adjusted with an inverter.
Pressure proof specification
Welding flange on tip of feeder to connect with established equipments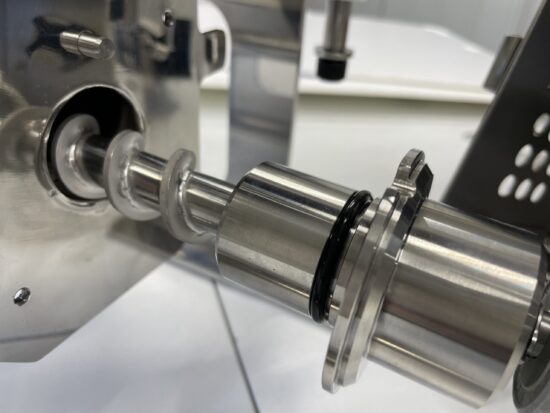 O-ring for improvement of sealing
Trial report
Control method
Screw rotation speed:Inverter
Operating time:Timer
Feeder diameter
φ25.4,φ38,φ42.7,φ48.6,φ60.5,φ76.3
Screw type
Normal, Shaftless, Twin screw, Double start
Hopper size
20L(Standard) 10L, 30L, 40L, 50L, 100L

Measures for powder bridging
Bridge breaker(Agitator)
Mounted on the lid
Input voltage
100V AC Single phase(50/60hz)
External dimensions
W418×D630×H700mm
※In case of spec:φ42.7 screw feeder and 20L hopper with bridge breaker
Weight
Approx:20kg
※In case of spec:φ42.7 screw feeder and 20L hopper with bridge breaker
Screws are selected according to powder type and feeding capacity
We offer single-shaft and twin-shaft.
The single-shaft screw is a highly versatile standard specification, while the twin-shaft screw is used for crushing or high precision, depending on the type of raw material. Since this is the most important basic component, we select the optimum one according to the customer's required specifications.
Single
(Standard/Shaftless/Spring)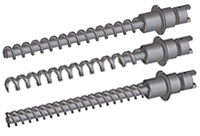 | | | |
| --- | --- | --- |
| Screw type | Feature | Suitable Powder |
| Standard | The most versatile type | Pellet, Dried powder |
| Shaftless | Prevent adhesion of powder and raw materials | Highly adhesive powder |
| Spring | Feed with high accuracy | Pellet,dried powder |
| Twin(2N screw) | Feed while loosing hard powder  | Hard powder |
Amount of feeding pellets(bulk density 0.8)                                                                                                              Reference values ※Kg/hour
| | | | | | |
| --- | --- | --- | --- | --- | --- |
| Feeder type | φ38 | φ42.7 | φ48.6 | φ60.5 | φ76.3 |
| Standard | 21 | 29 | 73 | 122 | 254 |
| Shaftless | 25 | 34 | 88 | 147 | 304 |
| Spring | 22 | 41 | 80 | 126 | – |
Track records of powder and ingredients
Chemistry
Silica, talc, alumina, ceramic, slaked lime, activated carbon (grains / powder), carbon grains, graphite, glass powder, pigments, zinc, manganese dioxide
Potassium carbonate, calcium carbonate, light anhydrous silicic acid, aluminum oxide, magnesium oxide, ammonium phosphate, silicon dioxide
Chromium trioxide, antimony oxide, cobalt oxide, nickel oxide, bismuth oxide, sodium borate, titanium oxide
Silica sand, soil, feed, water purification agent, flocculant, preservative, ion exchange resin, cement, kenaf, glycerin, boron nitride, incinerated ash
Battery material
Positive electrode material, negative electrode material, conductive auxiliary agent
Biomass carbon neutral
Wood pellets, wood chips (sawdust), rice husks
Resin / fiber
Pellet, masterbatch, resin powder, resin crushing material, resin flakes, PVA resin
Carbon fiber (carbon fiber), PP fiber, crushed glass fiber, acrylic fiber
Metal
Iron powder, iron ore, metal powder (aluminum powder / copper powder) copper ore, cut copper wire
Food
Wheat flour, soybean flour, salt (coarse), salt, granulated sugar, white sugar, soybean flour, black tea flour, powder dressing
Vitamin C, potato starch, buckwheat flour, citric acid, baking soda